Paghigugma kay Brenda
A Four-day Art Sale for Brenda Fajardo
U.P. Visayas Art Gallery, Iloilo City
Tuesday, March 16 to Friday, March 19, 2010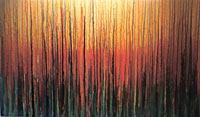 brenda
A group of Ilonggo Artists will hold a special four-day art sale from Tuesday, March 16 to Friday, March 19, 2010 at the UP Visayas Art Gallery, Iloilo City. Different kinds of artworks –paintings, sculptures, drawings, prints, digital art, mixed-media, terracotta, etc. will be sold at a FIFTY-PERCENT (50%) discount. The artworks will be available for purchase starting at 9:00 AM on March 16 and will be sold on a first come-first served basis. There will be a formal opening at 5:30 PM of the same day.
Proceeds of the sale will be given for the benefit of Ms. Brenda Fajardo, a special friend of Ilonggo artists who has been stricken ill in Manila. This is their way of expressing support and love to Ms. Fajardo, also an artist, who has touched their lives and has given them so much help, support and inspiration.
For inquiries, please contact the UP Visayas Art Gallery at 3379159. Gallery hours are from 8:30 AM to 12:00 NN and 1:00 PM to 5:00 PM.