One jazzy evening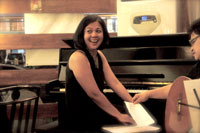 Carolyn Carreon Del Rosario prepares for her mini-show.
Carolyn Carreon Del Rosario came home to Bacolod for a much-needed vacation from her busy schedule in Berlin, where she wows audiences as a jazz pianist. Little did she know that her friends would make her work one evening, by letting her perform to invited guests, so that they, too, would be wowed by her music. Mel Bascon, daughter of Bascon Cafe's Dodong Bascon, transported her piano from their home to the cafe's Lacson Street Branch, and invited percussionist, Benjie Torre, and guitarist, Ernesto Quilisadio, to jam with Carolyn last February 10. The place was packed with friends who would witness, some for the first time, Carolyn's fingers glide on ivory keys to make music that she is known for in Berlin. Even Marili Bascon Gonzaga couldn't resist belting out some songs to Carolyn's music.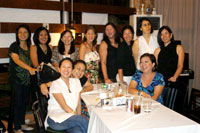 St Scho's Batch 77 gives full support to Carolyn.
Spotted in one corner of the cafe were her classmates Trish Golez, Nining Tinsay, Janina Ascalon and hubby Richie, Cynthia Gamboa, Marilou Jo, Joanna Ylanan, Celeste Tad-y, Salou Keuls, Mary Ann Lim, and Cuti Regalado. Negros' jazz enthusiast, Bob Coscolluela was enjoying the evening with Jerray Bagtas. Bebol Carreon, Carolyn's sister, was definitely all smiles as she proudly watched "manang" do her thing. Such cozy ambience wouldn't be complete without the famous Bascon Cafe dishes, which the kitchen was busy whipping up as the crowd was enjoying the music. And when Carolyn played her last song, the guests clamored for more! It was indeed one superb night of jazz music at the cafe—thank you, Mel!