2nd NSTP 'Green Philippines' Awards 2009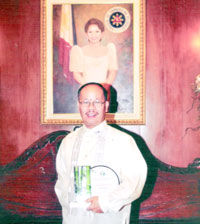 FCC-NSTP Coordinator Adam Jesus Bering.
ROXAS CITY – Coastal Leaders Environmental Action Network (C.L.E.A.N.)–Baybay, an environmental action program of Filamer Christian College National Service Training Program (FCC-NSTP) has scored as one of the national finalist as its entry to the 2nd NSTP "Green Philippines" Awards 2009 (Best Environmental Programs) in awarding held at the Rizal Hall, Malacañan Palace, Manila. The award was personally handed over by Her Excellency Gloria Macapagal Arroyo. CLEAN-Baybay won as one of the national finalists in the Category B – Coastal and Marine Environment. The trophy was received in Malacañan Palace last December 10, 2009 by Adam Jesus B. Bering, NSTP Coordinator of Filamer Christian College.
Besting two other finalists from Category A (Land-Based/Urban Environment) is from West Negros University (WNU) and from University of St. La Salle for Category B (Coastal asnd Marine Environment). The other six finalists are: for Category A (San Beda College and Cagayan Valley Computer and Information Technology College); Category B (University of Bohol) and Category C: Forest/Upland Environment from Nueva Vizcaya State University, Nueva Viscaya; Capalonga College, Camarines Norte and Visayas State University, Baybay, Leyte.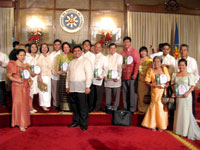 The awardees.
The NSTP "Green Philippines" Awards is a nation-wide award given to schools, colleges and universities implementing Executive Order No. 578, "Encouraging the formulation and implementation of Green Philippines Programs through the National Service Training Program (NSTP), issued by the President. The NSTP "Green Philippines" Awards is implemented yearly by the National Youth Commission (NYC).
A total of 80 entries nationwide were received by NYC but only nine awards in three categories were handed out after the nine finalists passed the final screening and approval of the Board of Judges during the final screening process held at the NYC in Quezon City.