I-TRAVEL
The St. Paul's Hospital Centennial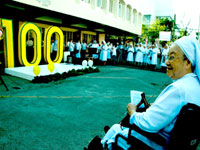 100-years-with-SPH.
Next year, St. Paul's Hospital will be one hundred years old! That's one hundred years of service to the people of Iloilo.
There had been many happenings and improvement in the last 99 years. The Sisters of St. Paul's were responsible for these along with the inspiration provided by the Catholic Archdiocese of Iloilo, as told and shown in the hospital's history.
The present administration of SPHI, under the leadership of Sister Linda Tanalgo, started the celebration of their centenary a year ahead start this March 2010 and will culminate on February 2011.