Spa Riviera's Naked for Wellness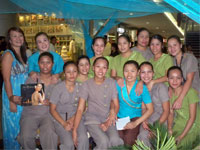 The highly trained therapists of Spa Riviera.
Spa Riviera launched its coffee table book "Naked for Wellness" at SM City Iloilo recently. Featured on its pages are the varied services they offer and of course, being enjoyed by its company model, Ria Bolivar.
Also, free services were offered to all mallers for the whole day as well as a program and cocktails in the afternoon.
The event center of the mall was turned into one big spa where people had their foot massage, facial therapy and back massage.
The event became more colorful with the participation of some fitness experts. The Housefit Gym demonstrated taebo exercises while the Science of Identity Foundation showed varied Hatha Yoga exercises.
The event was a success, thanks to the sponsors: Astring-o-sol, Offprice, Karatworld, Mang Inasal, Chair Spa, Skin Company, Acclaim, Housefit Gym, Pinili Bamboo Crafts, Specialist, SM City Iloilo and Susanna's dinner.