TWILIGHT
JCI Iloilo and JCI Regatta and their Pinta de Layag and Pinta Tawo Affairs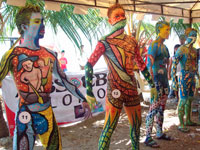 Body painting was a full visual attraction at the Villa Beach famous Breakthrough Restaurant.
Active and young community leaders composing the Junior Chamber International chapters of JCI Iloilo and JCI Regatta joined efforts in supporting the famous Paraw Regatta festivity in Iloilo City recently and came up with two added events to bring more color to the festival.
Paraw Regatta Festival boasts of its sailboat competition among Ilonggos as the boats' sails are painted with attractive designs as JCI Iloilo took time to initiate a competition called Pinta de Layag or painting competition of the sails of the competing sailboats.It was colorful.
JCI Regatta, meanwhile, exerted their creativity as they organized the Pinta Tawo challenge among Ilonggos with the entire human body of the competitors were painted. Charie Ginete-Ilon and her ABS CBN Iloilo sponsored the Pinta Tawoas her station gave mileage to the affair.
Seen around were JCI immediate past national President Fulbert Woo, NVP-Visayas Jomarie Moriente, IPP Rex Chua and JCI incumbent president Jeff Tio had their hands and minds full to ensure the success of the projects.