Eco Chic at Mr. and Ms. WVSU 2010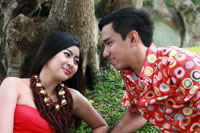 Mr and Ms WVSU 2010 from the College of Mass Communications.
For over 100 years and beyond of academic excellence, West Visayas State University still soars steadily.
Once again, they celebrated their U-week last January 27-31, 2010 themed as, WVSU: A more Responsive Environmental Stewardship. The Voice of the University, the College of Mass Communications was the host for this year's pageant.
Last January 29, 2010 at Jaro Plaza Gym, passion, versatility and wit, all these essential must-have qualities were present in the young men and women who vied for the titles of Mr. & Ms. West 2010. This year's pageant theme was Eco-chic. Witness the fusion of elements as everyone experienced glamour, sophistication, and great concern for Mother Nature all in one night.
The event was hosted by Iloilo's sought after pageant host Michael Jordan Toledo and Miss Iloilo Dinagyang 2002 Mahleez Quimpo-Sanares.
This environmental advocacy project focuses on global awareness. Carrying the tagline "Eco-Chic", it was also a way for students to ruminate over what they, as caretakers of the environment, can do to come up with concrete changes in their lifestyle and think of unique ways to protect the planet. Before the pageant, the candidates conducted a tree planting activity at the WVSU College of Forestry.
Hop aboard the save-the-earth bandwagon and do your share, world citizen!
Let's see how "green" you are.
Let's toast the winners for this year's pageant who garnered the undisputed titles of Mr. and Ms. West 2010, Juan Paolo Dimaguila and Gladys June Pacete who both came from the CMC.
The first runners-up were Clarence Balag (College of Medicine) and Maxinne Marie Sentina (College of Nursing) while the second runners-up were Neil Jay Sy (College of Nursing) and Elizabeth Catipay (College of Education).