BCBP launches honesty campaign on PUJs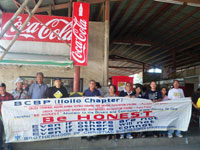 Members of BCBP holding their honesty campaign banner.
He who walks honestly walks securely!–Proverbs 10:09
The Brotherhood of Christian Businessman and Professionals (BCBP), launched its Honesty Campaign on public utility jeepneys (PUJs) situated at the Iloilo Terminal and General Services, commonly known as the Ungka Terminal, last February 20, 2010.
This campaign is part of the BCBP's national advocacy of informing Filipinos of the importance of being honest.
Their statement, "Be honest, even if others are not, even if others will not, and even if others cannot," is being printed on these stickers. This phrase will remind the commuters that it's important to be honest. After all, honesty is a vital ingredient in personal and nation building.
According to Rizal Alido, president of the Ungka Terminal Aquino Avenue Jeepneys Operators and Drivers Association (UTAJODA), "This campaign is fully supported by the drivers because it reminds the drivers and passengers to be honest and responsible in partaking of the services of the PUJ." He added, "Being honest could be a way of life for the public, so we could live harmoniously."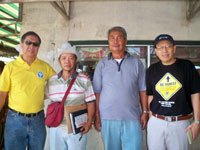 BCBP's Johnny So, UTAJODA President Rizal Alido, Terminal Manager Narsizo Pueblo and BCBP-Iloilo President Jimi Jegonia.
BCBP started its Honesty Campaign in Iloilo by posting small banners in hotels and restaurants in the city.
The campaign became intensive with the coming 2010 Presidential Election, because the BCBP is one of the partners of the Commission on Election (Comelec) and the Parish Pastoral Council for Responsible Voting (PPCRV) in securing a peaceful and honest election. In connection with this, the BCBP came out with the tagline, "Bumoto ng Tapat, Bumoto ng Nararapat."
The brotherhood aims to sustain a long-term advocacy and plans to reach all public utility vehicles and establishments around the country.