Simply Ana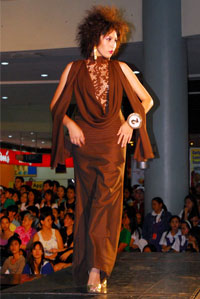 Ana's winning form.
Up close with Robinsons Campus Fashionista 2009 winner Ana Maria Barbara Yranela
Ana Maria Barbara Castigador Yranela, 21, stood out among the Robinsons Campus Fashionista 2009 contenders. She's gifted with a physique that fashion designers would go gaga for to don their creations, thus, everybody believed that she would win the coveted title of Robinsons Campus Fashionista 2009 for the female category. And she did.
She joined the competition after some prodding from models who were products of the contest as well as a couple of designers who believed in her capabilities. A year before that, she had been modeling already.
An active person, Ana was also active in theater, being the former president of the UP Intermedius, the school's theater club. She used to get into acting and directing. She's also into sports like lawn tennis and volleyball, thus actively participating in sportsfest even after graduation.
She took up BA Psychology Management at the University of the Philippines in the Visayas – Miagao Campus.
She loves reading lifestyle magazines and books, especially by Lawrence Sanders because doing so refreshes her vocabulary. She also loves to watch romantic comedies, TV dramas and sitcoms. On idle moments, she makes good use of her time by answering Sudoku and crossword puzzles in the newspaper.
Get to know more about Ana through the following interview.
Kathy M. Villalon (KMV): Describe yourself.
Ana Maria Barbara Yranela (AMBY): I'm a tall girl who may come off as a snob to some, although in reality, I'm just an awfully shy individual. What people don't know is that I'm bubbly and talkative once I've finally warmed up to someone. I'm a pretty simple girl who loves her family and friends, who would rather stay curled up in bed on a party night and who could easily be pleased with just a scoop of ice cream.
KMV: Any unforgettable experience during the Robinsons Campus Fashionista search?
AMBY: The rehearsals was the memorable part because this is where we were able to bond, help, and comfort each other throughout the grueling practices and workshop sessions. The contestants were really friendly and warm that it didn't seem like a competition at all. I even made a few close friends that I still keep in touch with until now. The important lesson I got from the competition is to be as receptive to criticism as you are with praises since its a prerequisite to be a better you.
KMV: After the search, what next?
AMBY: I hope that i could still continue to model. Although I'm working now and I would say it's my main priority, I still hope I could try to insert it once in a while. But wherever or whatever I will be years from now, it would always be a special aspect of who I am.
KMV: Who's your favorite model?
AMBY: Twiggy! Because of her huge, round, puppy dog eyes. I admire Isabel Roces and Lily Cole as well. Both aren't just high profile supermodels, but they epitomize beauty and substance as well and they're wielding their popularity to push forward humanitarian causes.
KMV: Who are your favorite designers?
AMBY: Peer Lynell Banas. His clothes have a distinct androgynous quality in it, making it sexy, in an edgy way. And Jaki Penalosa. You can give her any piece of indigenous fabric, and she's sure to whip up a work of elegance out of it.
KMV: Are you willing to model for undergarments?
AMBY: Hmmmm. I've tried before with Triumph and I'm happy I did because it was like a Victoria's Secret fashion show, minus the huge angel wings. However, I think it's enough that I've tried once since I'm more at ease modeling street wear and couture instead.
KMV: What's your personal fashion style?
AMBY: I usually throw in garments that I'm comfortable with. My typical get-up is just a simple tee with pants or shorts and comfy flip flops or sneakers to warm my toes. The only accessories you'll usually find me wearing are my class ring, simple loop earrings, a watch, and a smile.