Kabayan Hotel: Home of convenience and relaxation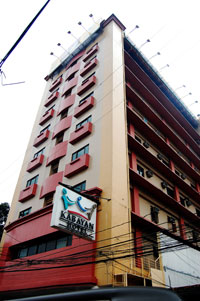 Kabayan Hotel Cubao.
Genuine service, clean, safe and secured, accessible, convenient place, rooms and foods that reasonably fits to your pocket. Kabayan Hotel answers your needs with their new amenities and priceless Pinoy hospitality that surely make your hotel accommodation something remembering.
Designed to cater the needs of the travelers, Kabayan Hotel has become a comfort place for coming to Manila for business and relaxation purposes. The location, safety and the value of its rooms and meals, religious ambience makes the hotel unique and needful place to stay in.
In a product presentation, last Feb. 4, held at The Jordan Hall of Sarabia Manor and Convention Center, Edward Capili, marketing manager of Legend Hotel International Corporation, introduced the all new innovated amenities of 3 Kabayan Hotels, located at Pasay, Cubao and Caloocan.
The Kabayan Hotel Pasay, is the largest Kabayan Hotel with 253 superior and premium rooms with diverse amenities for the guest and families. With at least 5 minutes away from the International and domestic airport, and a mere walking distance to the LRT and MRT station, Kabayan hotel Pasay is more accessible hotel for migrant, balik-bayan and provincial travelers. It also offers free pick-up service at the airport which makes it convenient for the guest and families who took a long trip. They can also choose different types of room that fits to their budget. Last January, a new hotel entrance located at EDSA was launch and it append to the accessibility of the hotel.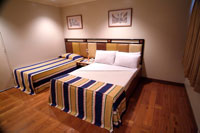 Kabayan Hotel Pasig guest room.
If your are planning to transact business and public documents, Kabayan hotel Cubao is your most comfortable place. For around few minutes away to government offices in Quezon City, namely POEA, OWWA and Department of Foreign Affairs, Kabayan Cubao could really accommodate your needs.
The Kabayan Hotel Coloocan is the third and newest Kabayan Hotel. Being near to the port and universities like Miriam College and UP Diliman are benefits of being in Kabayan Cubao. Located at the Monumento Circle, the hotel is very accessible to the business establishment and also a few steps away to LRT and MRT station.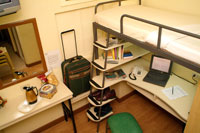 Kabayan Hotel Pasig pad.
All Kabayan Hotel are located at the major streets of Metro Manila and has easy access to all modes of transportation. All branches have two restaurants–Sala and Pinoy Star Café that offer the elegant Filipino food and delicacies throughout the day. All rooms are totally furnished and all the beds are made in wood, with internet and cable access. And most of all Kabayan Hotels retains religious environment, with resident pastors and counselor.
Legend Hotels International Corporation also presented two unique hotel accommodations, the Park, Bed, and Breakfast–which the idea was patterned a motorist hotel or commonly known as "Motel", and the other one is "My Space" a hotel and dormitory.
Park, Bed and Breakfast has a tagline "The sulit hotel for you and your car". It offers a free 10-point check-up and car wash services to your car, while you are enjoying your rest at the comfortable and convenient room. After smooth sleep and a warm slower, you can have your delicious and enjoyable breakfast. Great accommodation in a very low packaging price, that really fits to your budget.
On the other hand, if you are a student and in need of a conducive and comfortable resting place while studying, My Space is for you. For as low as 7 thousand pesos per month, you can have a room which is completely furnished with a WI-FI and cable connection. My Space has also 24 hour's security services, recreation area and resident counselor that can response to the emotional needs of the students residing in the dormitory.
For inquiries, please call Central reservations at (632) 7022700 to 04 and 0917-7022700 for mobile phone. You can also visit www.kabayanhotel.com.ph for more details.