PURR
A Paraw Regatta Day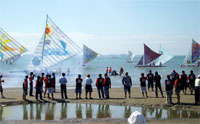 Watching the paraws start the race.
The 38th Iloilo Paraw Regatta held last February 20 and 21, 2010 along Villa Beach, was quite a success. Compared to the previous celebrations, this year's was not boring. Thus, despite the challenges posed by the biting heat of the sun, with a kid in tow on a work-leisure event, with only half of the stage's roof sheltering us and a meager supply of water, it was not that bad.
While the 'paraws' were waiting for the go-signal for the race, varied speeches were made by VIPs at the stage. Department of Tourism Regional Director Edwin Trompeta led the countdown to the race, and with firecrackers to signal its start, the 'paraws' started to weather the wind and the sea.
While the sailboats are out at sea, several schools performed their samba's best in the Sinamba sa Regatta. Simultaneous to that were sports events held at the other side of the beach.
Grupo Fuerte Baile of Fort San Pedro National High School.
The City's Public Information Office provided us with lunch while waiting for the results of the race and the other competitions. On the Thursday prior to the Paraw Regatta proper was the Sinamba sa Regatta competition in Freedom Grandstand. On Friday evening was the Miss Paraw Regatta 2010 pageant. On Saturday was the Paraw Slalom Competition and the Pinta Tawo Competition.
Arriving First
After lunch, we sought out the first sailboat that arrived Villa Beach, The Marjonec owned by Hector Espinosa, son of Nong Tatoy's of the famed Tatoy's Manokan. Warlito Terunez, the 'timonel' or the person who handles the sailboat's 'timon' (ruder) said that their boat was newly made. Compared to the old Marjonec, the new one can handle strong winds and adjusts well to the movement of the 'timonel.' He said that despite the changes in wind direction posing as a challenge for them, there was no other major concerns encountered during the race.
The Marjonec's crew was composed of six members who are fishermen from Parara Sur, Tigbauan and are expert sailors as well. Terunez, for one, had been a 'timonel' for 10 years now.
In Conclusion
Sporting a headache amid all the activities and the sun's searing heat, we decided to have lots of ice cream and decided to call it a day.
To those who are too lazy to witness Paraw Regatta, you might want to join the next celebration in 2011. Support the Best Sports Tourism Event in the Philippines.