Labor of Love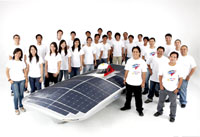 Team Sikat.
For some DLSU students, making a solar car is time well-spent
"Sikat", the second solar car in the Philippines, was created by a team of De La Salle University Manila students who are taking up Electronics and Communications Engineering (ECE) and Mechanical Engineering (ME).
Sikat is a single-seater race car with three wheels.
"It took us one year to create the car. That includes planning, designing and fabrication," said Rachel Pastorido, an ECE student who's part of the team. "It costs P5-million because there were many special parts and materials that were used for the reason that the car was intended for the competition," she added. The competition she is referring to is the World Solar Challenge in Australia, held every two years. "We joined in 2007 with the use of the first solar car, "Sinag" and we ended upon 12th place. The next race is on 2011," she said.
Rachel said that in making the car, they have learned about the application of their course. "We've learned to value and appreciate our course more. We had a lot of sleepless nights in order to meet the deadlines. Just like any other student, we are not exempted from our classes, exams and other requirements in school. Thus, we have learned to manage our time. We also learned the value of teamwork. We also got to travel," Rachel said. "Sikat" was toured around the country, with Iloilo City as one of the stops.
Rachel also said that they are happy to be part of history, specifically in the advocacy to protect the environment. The making of Sikat and its tour around the country, aims to promote renewable energy to the youth and to inspire them to use energy that is good for the environment.
Sikat was made through the support of PSCS, De La Salle University, First Gen, Ford Motor Company Philippines, Motolite, Pilipinas Shell and Sunpower.