A date with Mother Nature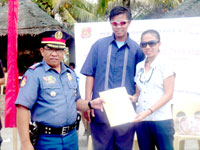 PSSUpt Ren Darroca presents the Certificate of Appreciation for Ramon Avancena High School.
Our environment needs love too!
The message capsulized the central theme of the coastal clean-up activity organized by the Police Regional Office 6 (PRO6), a day after St. Valentine's Day.
Dubbed as "A Date with Mother Nature: Scubasureros' Revisit to Arevalo Shoreline", the activity was held along the two-kilometer shoreline stretching at the barangays of Sto. Niño and Sto. Niño Sur, Arevalo, Iloilo City.
It was participated in by about 350 persons from various organizations who share in the advocacy of saving the environment from climate change and global warming.
PRO6 personnel, led by region's top cop, Police Chief Superintendent Isagani Cuevas, was also in the same area last November 8, 2008 for the launching the PNP Scubasurero project. The project is supportive of the government's campaign on environment preservation.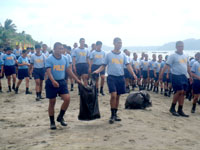 Cops in action.
On Monday (Feb. 15), history has repeated itself. The police personnel on their athletic uniform together with the students from Ramon Avanceña National High School, officers and members of the Association of Barangay Captains – Arevalo District, Borres Youth Leadership Institute, Inc., Philippine National Police Academy Alumni Association, Inc. – Western Visayas Chapter, PRO6 Development Cooperative, and residents of Brgys. Sto. Niño Norte and Sto. Niño Sur, flocked at the shoreline and collected tons of garbage – from candy plastic wrapper to diaper and grocery bags.
"The activity may not create a big impact in our fight against climate change and global warming," PRO6 Spokesperson, Police Superintendent Ranulfo Demiar, said. "But this activity will surely prove that Together Everyone Achieves More," he added.
Demiar encouraged the participants to be always mindful of our role as individual in saving Mother Nature through simple act of disposing our garbage properly.
"The earth is one of the best gifts God has given us. Let us, therefore, love our Mother Earth," he quipped.
Police Senior Superintendent Ren Darroca, Chief of PRO6 Police Community Relations Division, handed over the Certificate of Appreciation to participating organization in recognition of their support to the project.