TWILIGHT
MA Wheels Autoworx show off creation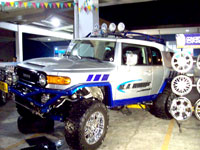 The national awardee FJ Cruiser creatively designed car of MA Wheels Autoworx and winner of Dream Car Award.
Mike Arimas of MA Wheels Autoworx displayed several more than twenty sedans, pick-ups, SUVs that included Hummer 1, Hummer 2, Hummer 3, Toyota Tundra, Toyota FJ Cruiser, Nissan Patrol, customized Feroza, Mercedes Benz, BMW sedans, Eclipse, Opel Rekord Berlina and more.
It was a successful auto show where MA Wheels Autoworx grabbed the awards like the Standard Insurance Dream Car Award, KOI Herbal People's Choice Award, Mang Inasal Classic Car Award, KOI Herbal Most Creative Car Award and several minor awards.
The auto show was presented and supported by SM City Bacolod, Mang Inasal, KOI Herbal, Standard Insurance Bacolod, FORD Negros and gifts and prizes were provided by Mang Inasal, Bacolod Spa, Drift Car Wash and Auto Detailing, ECJ Farms, Tib's Kitchen & Café, Photoline, JGM Finance, Ton-Ton's Massage, Deco's Batchoy, O' Fisher Spa & Salon, Nature's Spring Water, Coca Cola, and Ocean Jet.