PURR
Ben Jimena: A man of progressive ideas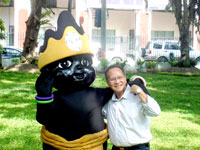 Ben Jimena with his brainchild, 'Dagoy'
BEN Jimena's name is synonymous to the Dinagyang Festival because it was under his leadership that this world-class event has become what it is now – bigger, better and now in the Hall of Fame as the Country's Best Tourism Event.
Also, Jimena was named one of the three outstanding tourism officers of the country. These awards were given by the Association of Tourism Officers of the Philippines during its national convention.
Jimena, passionate about marketing and the success of the festival, makes it a point to introduce new, albeit frequently contested ideas, in order to make this event move forward.
He is a marketing person who specializes in Marketing Production. He is formerly an MBA teacher in the University of San Agustin and University of the Philippines. "It's not difficult for me to generate ideas like the use of the mascot, taglines, poster layouts, and more," he added.
Jimena admits that in his aggressiveness in pushing for his ideas, he has met some "enemies" along the way. But, an expert in marketing like him, is able to convince everyone about the good things in his ideas. "I always have an explanation, and I'm happy that after I speak my case, people understand," he added.
It was Jimena who conceptualized the use of "Dagoy" and when it was not acceptable to everyone, he was able to convince them anyway. Now, we have "Dagoy" as the official mascot of the festival.
Jimena's proposal to use dark brown as the official Ati color has elicited wild reactions to the point that a public hearing was set for such.
Jimena's latest idea was the use of wheel graphics for the zeroes in Dinagyang 2010. "Even with that, many disagreed, but I explained to them what the wheels meant. The two wheels look like eyes, signifying that the festival is being watched by everyone and the world. The wheels also symbolize Dinagyang as an engine for growth," he explained.
With so many ideas that filled his mind, there's one more crazy idea that Jimena has concocted. "I'd like to advertise the festival through a teaser like Dina G. Yang, to give it a personality. It would be nice to connect the festival with a lady. But there are many objections because of its Chinese connotations," he said.
Jimena said that he goes through all the trouble to promote Dinagyang Festival because of an experience in Manila before. "When people Manila saw us at the parade, they thought it was Ati-Atihan of Kalibo. When we ride the taxi, I always ask the driver if he knows Dinagyang and he says 'no.' So I told myself that it's high time that we promote Dinagyang, and we did," he said.