Sarah's Day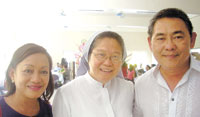 Birthday celebrator Sarah Peña with Sr. Claire Cecilia Salvani R.A. and Judgee Peña.
Always the perfect hostess, Sarah Opolencia–Peña is never to be outdone when it comes to giving a party any time of the day. So when she celebrated her birthday which coincided with Assumption Iloilo's annual Family Day Celebration, the ever gracious lady feted the students' parents and other friends numbering around 150, with a sumptuous buffet lunch catered by Wilson Esperancilla no less, at the school's Refectory.
Her daughters Rita and Risa (alumni of the Assumption) who are now based in Manila for their schooling flew back home on that special day to be with their mother. Also present during this happy celebration is the birthday celebrator's betterhalf, Judgee, and youngest daughter Rica who is a consistent honor student of Assumption.
Cheers to Madame Sarah may you have more birthdays to come!