NEGRENSE WAY
Samba e Arte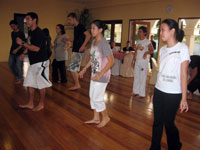 Sapo and his students Nykha de Leon, Johanna Lio, Thea Vail, Ric Torribio and Kit Cooper.
ALL the elements for a fabulous party were present. Not only was it a holiday party, it was a great way to end 2009 and an exciting way to start 2010. The Mandala Centering Place along Burgos Extension was dressed up for the occasion with decors. Tables were draped and topped with festive centerpieces. The food was catered by none other than Bacolod's finest, Kusina Mia, by Chef Mia Lizares-Gonzaga. Chicken satay, mushroom linguine, and chicken waldorf sandwiches were just some of the mouth-watering food that topped Mia's buffet table. There was even a dance floor. So what could be so different? They came, they ate... and Carl Errol Seran had his small photo exhibit of really fantastic pictures... and then Professor Sapo, a Brazilian samba and capoeira instructor at Mandala, gave the guests Samba lessons! Now who says you can't have it all?
Samba has been a symbol of Brazil and its famed carnivals. In 2005, the UNESCO declared the Bahian samba de roda (dance circle) a Heritage of Humanity, and is the origin of the samba that is seen in Rio de Janeiro. From samba, other forms of music evolved, one of which is the popular bossa nova.
Everyone had a great time gyrating to the music. They had fun. They also had good exercise while learning this Brazilian dance. The party was unique, as guests walked to the dance floor to shimmy to samba music. From the looks of the night, there will be more samba lessons in Bacolod in the coming year. It will change the rhythm of the city, a welcome complement in this City of Smiles.