My Dinagyang
Religious or commercialized, does it really matter? People from all walks of life share what they think of Dinagyang as well as how they celebrate the festival.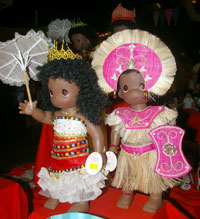 Dagoy dolls are dressed up in different costumes, made by Precious Moments. They are available at SM City Iloilo. GLEN JUMAYAO PHOTOS
THE beating of the drums, the busy and noisy streets and awesome activities! The Dinagyang fever is here.
The Dinagyang Festival, installed in the Hall of Fame and the Best Tourism Event of the country, gives honor to Senior Sto. Nino for the gift of abundance and protection. But many are saying that it has lost its religious essence because of the commercialization attached to it.
But what is Dinagyang all about? And how do we celebrate it? Here are some thoughts from our friends and readers ...
"Dinagyang is all about happy people, lively beats, overflowing booze and great food! It's a festival of life, friendship and fun. It is always best shared with friends, old and new. Hala Bira Iloilo!!! Cheers!
–Amy Tudence, member, KKK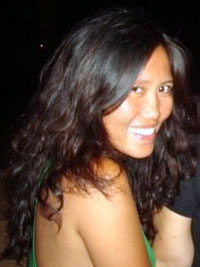 Amy Tudence.
"Dinagyang is a time when Iloilo is most welcoming. Tourists must take the op to experience what Iloilo has to offer by following not just the merrymaking trail but all the Dinagyang highlights – the food, fluvial parade, church trips, countless exhibits and the performances. Dinagyang is the best time to seize and savor Ilonggo life."
–Stanley Palisada, news anchor of ABS-CBN and columnist of The News Today
"Dinagyang is and should primarily be a religious celebration of our devotion to Sr. Sto. Nino. I celebrate Dinagyang by attending to the needs of the provincial governments."
–Bombette Marin, provincial tourism officer
"Dinagyang is a celebration of culture and traditions for many Ilonggos. It has evolved in many ways. It is my delight to appreciate the different exhibits, shows and performances related to the richness of Iloilo culture and the arts."
–Vinnie Tan, University of the Philippines professor
"We usually invite friends and relatives from other places to come over and witness the festivities. When they hear the drums beating and see the intricate and rhythmic movements of the warriors as they venerate Sr. Sto. Nino, our visitors are immediately enthralled. And it is through their eyes that we view and celebrate Dinagyang every year!
–Dr. Chippy Ybiernas, pediatrician, St. Paul's Hospital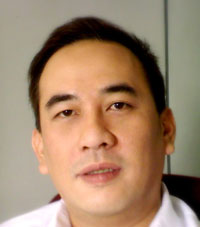 Stanley Palisada.
"To have a meaningful Dinagyang and have fun at the same time for me is spending the time with people I care for and love and go out to enjoy the great food served during the food festival. Viva Sr. Sto. Nino!
–Prima Buckley, proprietress of Sta. Clarita International School
"By actually experiencing the day and night celebrations in the I-don't-normally-go-there-streets of Delgado and Valeria where childhood memories are."
–Roy Betita, franchisee of Auntie Anne's Pretzels, SM City Iloilo
"Dinagyang is about praising Sto. Nino. I celebrate Dinagyang by witnessing every tribe compete on the streets."
–Anna Villalon, 6 years old, student
"Just being with my wife Marissa and kids this Dinagyang is meaningful and enough for me."
–Trix Gorriceta, businessman and jeweler, Karatworld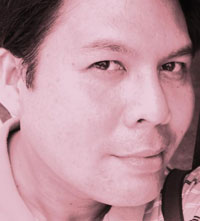 Bombette Marin.
"Dinagyang is basically the only time when people are expected to be merrymaking, so my advice, go out and enjoy walking on the streets. And try getting out from the comforts of air conditioned restos and enjoy the traditional ihaw-ihaw and kamayan on the streets. It's about time we enjoy one of the craziest Ilonggo traditins. Hala Bira!"
–Aisha Penalosa, fashion designer
"Dinagyang is a festivity in honor of Senior Sto. Nino. In line with this celebration are the street dancing, outflowing of fastfood stands and night parties with amazing bands and hard rock music.
I celebrate Dinagyang by going around the streets, watching every tribe dancing. I also go to the food festival with my friends. There we drink and watch the bands."
–Adriane Reycel Paguntalan, third year, AB Engish, Central Philippine University
"Merrymaking! Street dancing! Overflowing booze and food, I guess. Hahaha. Hmmm, I actually avoid going around the city during the Dinagyang Festival. I'd rather stay at home and watch the tribe performances. I am not really a fan of walking around the city just to savor the Dinagyang fever."
–Kay Gallo, third year, AB English, Central Philippine University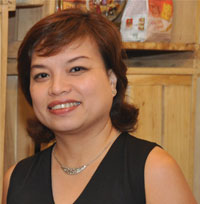 Dr. Chippy Ybiernas.
"Dinagyang is all about celebrating the feast of Sr. Sto. Nino. Filipinos and even foreigners go together to enjoy the lively street dancing and the loud beats of the drums. All in all, it is a festival being celebrated by Ilonggos, a time where we come because of one purpose, to honor Sr. Sto. Nino.
I've never been in the busy streets of Iloilo city during Dinagyang. I prefer spending my time with my family, comfortably in our home. For me, it really doesn't matter where you are as long as the real meaning of the festival is within your heart."
–Jennieveve Tersol, second year, BS Accountancy, University of the Philippines in the Visayas
"Dinagyang is about celebrating the different culture and traditions of the Ilonggos. It is also a commemoration of how we made our city and province a famous tourist attraction, as well as having a bountiful history.
I celebrate it through taking time in watching the live performance of each tribe. We eat different Filipino foods while watching. At night, I am with my friends jamming with the band."
–Claire Molina, third year, BS Information System, West Visayas State University
"Dinagyang is one of the Ilonggos' festivals honoring Senior Sto. Nino. It's been a tradition of the Ilonggo to celebrate this festive event and we show our devotion through dancing on the streets.
I celebrate the Dinagyang Festival by joining the activities such as street dancing, buying Dinagyang-related items and all night parties. I also show my devotion by attending religious activities in line with the celebration."
–John Allen Sobredilla, second year, BE Education, Western Visayas College of Science and Technology
"Dinagyang, for me is a time of gathering of Ilonggos and a time of big impact, especially for tourism in Iloilo. I celebrate it by walking around the event proper to every judging area and take pictures. It's an annual routine for me.
–Philip Ginsberg, Masters in Masscommunications, West Visayas State University.