Knights of Columbus by the Riverside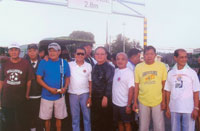 The knights at the riverside.
THE Knights of Columbus, Molo Council 5028 under the stewardship of Grand Knight Dr. Greg Sancho has been providing free blood pressure check-up and blood sugar screening to early morning joggers of the New Trenas Boulevard along Iloilo River for several days ever since it opened to the public.
Rolando Layson, the organizer of the FIRST JOGGERS CLUB and initiator of several activities held recently, also provider of the free snacks for joggers, is a past Grand Knight of Molo Council 2028 and also an active Metro Lions Club member.
An avowed supporter of free medical services especially for the indigent patients, Past GK Layson together with Dr. Sancho, incumbent Grand Knight of Molo Council 2028 and President of the Iloilo City (Host) Lions Club District 301-B for Lion Year 2009-2010, established the St. Anne Medical Clinic located at the ground floor of the Molo Convent.
For the past three years, the clinic has provided free medical consultation with free medicines to indigent patients in the District of Molo every Wednesday and Friday from 9 to 12 noon.
A major provider of the free medicines is the Regional Office of the Philippine Charity Sweepstakes in Iloilo City headed by Regional Director Jeanette Oberio who is also a Lion and past president of the Iloilo City (Host) Lions Club District 301-B.