Dinagyang Arts Festival: Cheers and dances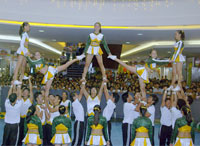 The WVSU West Eagles.
THE first event for the Dinagyang Arts Festival cheered the crowd last January 18 for it was a cheerdance competition held at the Event Centre of SM City Iloilo.
The two competing pep squads were the Jaro National High School Pep Squad and the West Visayas State University West Eagles.
Each squad utilized jumps, dance, sideline, cheers, toss, stunts and transitions in a 5 to 7-minute period. The JNHS Pep Squad created a huge noise from the crowd as they performed with their mighty yet tiny squad members. The WVSU West Eagles never failed to entertain the public with their terrific high stands and energetic dance moves.
Then the battle of the cheerleaders was on. Three members from each group competed.
The competition was screened by judges licensed by the Cheer Leading of the Philippine Federation, headed by Engr. Joven Cablas.
The winner of the competition was the JNHS Pep Squad, receiving P15,000 in cash. The Eagles received P10,000 in cash. Not bad!
Then, on January 19 was a folk dance competition in two categories – elementary and high school. The participants were the I. Arroyo Elementary School for the elementary category as well as WVSU and Iloilo City National High School for the high school category. IAES and ICNHS were declared the champions. They were judged by Emma Zaldivar, Joe Delima and John Erwin Pedroso.
JNHS Pep Squad presented an intermission number during the said event.