The Grand Tower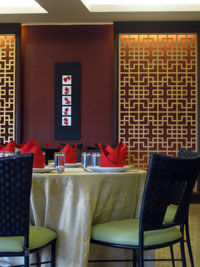 Savor the best of Oriental cooking in the comfortable confines of The Grand Palace.
DINING Oriental style has always been a grand experience. It's even grander when you do it in a placed called the "Grand Tower," which opened recently.
Located along Iznart Street, this six-storey building houses a turo-turo restaurant, Chinese restaurant, functions rooms and video/business lounges for those who want to enjoy their varied conferences.
On the first floor is the restaurant called Food Express. Ilonggos who are on a tight budget yet wanting to savor delicious food amid clean and hygienic surroundings, have found a friend in Food Express. Ever since it opened, the area is always filled during lunch time. The second level is an extension dining area for Food Express.
The third level houses the famous Grand Palace Restaurant. Open from 10 AM to 2 PM and 5 to 10 PM, the quality of the food served here and that of Grand Palace Restaurant at the Iloilo Grand Hotel, is the same. After all, they are managed by the same company, managers and staff.
The fourth level houses the Corporate Tower, which can accommodate 70 guests, while the 5th level is the Tower Ballroom, which can accommodate 120 guests. The 6th level is composed of four videoke and business lounges. It's complete with a wide screen, white board, PA sound system, LCD projector, a rostrum and more. Here, you can unwind after a business meeting.
And by the way, the Grand Tower is elegantly and comfortable designed by no less than interior designer Isabella Robles of Living Innovations, Inc.