Ms. Dinagyang 2010 ladies go 'recycled'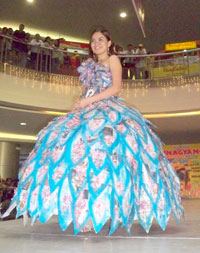 THE 12 ladies competing for Miss Dinagyang 2010 wore gowns made of recycled and indigenous materials during the gown competition held at SM City Iloilo last January 14.
Some of the materials used for the long gowns were newspaper, rattan, nito, coconut, sea shells, dry leaves and other materials found in the island.
Dubbed as the "Newspaper Gown Contest", this phase of the competition aims to promote environmental advocacy as well as self-reliance for the Ilonggos.
This makes the Miss Dinagyang competitor not just a person of beauty and skills but someone who can appreciate simple things.
The gown's designs and materials were closely evaluated before the competition started. Each candidate was judged according to the gown's ingenuity and creativity, construction of materials, originality of designs and the contestant's poise and bearing.