TWILIGHT
McKoi and Iska celebrate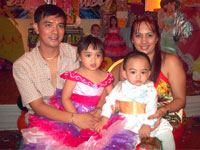 Parents Francis and Cathy Cabuga with charming kids, Iska and McKoi.j
PAPA Francis and Mom Cathy Cabuga made the hotel venue a very colorful destination for the friends and relatives of their two kids, Iska and McKoi as both invited many to their birthday affair at Planta Hotel-Bacolod.
The hall was colorfully dressed leaving no corner without decors and the amusing clown indeed entertained the kids and the young once, too. Cash gifts to riddles for the adults and lots of 'pabitin' and give-away were for the kids present.
Family members who were there joined the dinner of the kids' b-day bash with those tenderloin treats and fish cum prawns and big crabs to match. It was a delightful day for McKoi and Iska and Papa Francis and Mama Cathy were all in their best of smiles so happy with their charming kids.