Salapi na Kami (CPUHS76ers Reunited)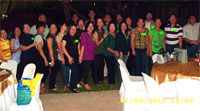 CPUHS 76ers.
HIGH school undoubtedly is the best part in everyone's life. It is a stage wherein you have your greatest, happiest and unforgettable life experiences. The CPUHS 76ers (Central Phil University High School Class 1976) have lots of these that forged a common bond between them that no matter if it had 34 years past since graduation, they are still very much connected and still get to see each other often through reunions held every now and then.
A greater number of 76ers recently held another reunion to commemorate their reaching their golden age and dubbed the affair as "Salapi na Kami".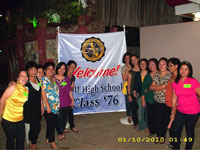 The golden girls Maygwen, Rowena, Agnes (partly hidden), Jeline, Joyous Jan, Jena, Cora, Boopeep, Athenis Joy, Nenoca, Helen, Marilou and Liz.
Several mini reunions were held in the past but only by those who are still in Iloilo. Recently however, CPUHS 76'ers held three (3) reunions in succession as an offshoot to the creation of the group's facebook account initiated by Jonrie Romales. The guy has to be credited for painstakingly researching class members in other places far from Iloilo and in just a short time almost reconnected everybody online. Those classmates and friends in distant places who never attended past reunions were very eager and wanted to see each other again.
Those in California and nearby states in the US immediately planned to hold a mini reunion in which Lemuel Magno graciously hosted the event in his California hoime. The event was initially planned to be held on Nov 29, it was however moved in advance to Oct 24 because everybody can't wait to see and meet each other again personally. Attendees were Josie, Suzette, Dorothy, Darlene, Lee, Moises, Ron, Eugene, Fulgencio, Henry, Eleazar, Edsel, Vero (flown from Phils), Oliver (guest) and the host of course–Lem.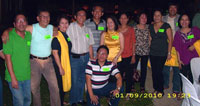 The golden guys Toto Z, Ric, Reuel, Loel, Francis, Reynald, Willy, Lemuel, Bob and Mel (kneeling}
A mini reunion in Taguig in Metro Manila shortly followed on Nov 7 and hosted by the ever pretty Maygwen Plagata Manela. Athenis Joy B San Jose, Toto Antolin Zamar, Jesus Quimpo and the host facilitated the event. Classmates situated in Metro Manila and some from Visayas and Mindanao gathered and had great time enjoying each other's company. It was also a celebration marking the 50th birthdays of most batch members and was dubbed "Salapi na Kami Part 1" (we're 50). A one day affair for the classmates is not enough that it continued until the next day where the group visited places and were later feted to a dinner buffet in the Mall of Asia by a former teacher, Cynthia Gencianeo. A third day treat was further offered by Ms Gencianeo but it did not materialize as most of the attendees have to fly back and return to their places.
Another reunion was planned during the get together at Maygwen's place and this time it was aimed to be a grand one which will be held in Iloilo City where most of the classmates are located. January 9 was agreed to be the date which was made to coincide with the arrival of Lem who would be flying in from California. Loel Losañes offered his luxurious abode in Gran Plains Subdivision in Jaro to be the venue. The event planners were; Loel, Toto, Rowena F Llanera, Jena B Sabido, Tina Fajardo, Nenita A Hautea and Willie Aguilar.
More than 50 classmates trooped to Loel's place and were reunited again on January 9. Each and everyone had great fun reliving the high school days we had then. The party was set in the spacious gazebo of Loel's residence complete with the audio and video facilities that came handy for the videoke belters to entertain their classmates who also cant contain themselves and danced to the music as well.
The reunion was dubbed "Salapi na Kami Part II" and a matching birthday cake was prepared, again to celebrate the birthdays of batch members who had turned and will be turning 50. Toto, who has the nearest date to celebrate his golden age was chosen to blow the candle.
The party continued until 5 o' clock in the morning as everybody is having a grand time singing and dancing, chatting and laughing at the good memories of high school. Classmates who have common interests discussed new opportunities they may create, projects that may be undertaken for charity or business, but most were just concerned on how they can keep in touch and revive friendships.
As always the case, a one night affair is not enough and Andrei Ross Dicen hosted another dinner party in his school/residence in Lapaz to extend the reunion. It was another night of fun and entertainment for the 76ers.
These reunions will remain to be cherished in the hearts of those who attended. The great bonding and unity that we had once in high school were rekindled and thus opened another chapter in the book of our lives.