PURR
Leganes celebrates foundation day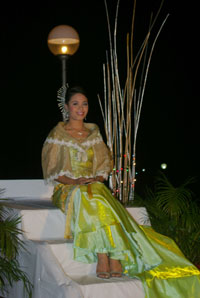 Queen Marigold Pacete.
THE Municipality of Leganes celebrated its 70th foundation day last January with a parade of queens and princesses in the afternoon as well as a fireworks display in the evening. The activity was graced by TESDA Secretary Augusto Syjuco and Barotac Viejo Mayor Raul Tupas. The Leganesnons and guests were warmly welcomed by no less than the town's mayor, Hon. Adolf Jaen and municipal councilors.
Leganes is a municipality in the 2nd District of Iloilo. Historical records showed that it was once known as Valencia. Two unrelated families with the same last name claimed that the town was named after their ancestor, with the fighting leading to the deaths on both sides. The family members were put in jail and to settle the argument once and for all, the Spanish Government renamed the town as Leganes.
Leganes thrives mainly on agriculture.