Big on Books
Educator-writer Dymphna Leizel Gonzales-Jocson encourages kids to read more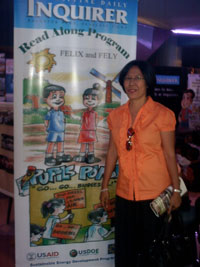 Dymphna Jocson poses with a poster of Felix and Fely.
READING books is a very important preoccupation that should start at a very early age. As early as two years old, children can be trained to love reading for it is through this skill that they become achievers.
Dymphna Leizel Gonzales-Jocson, school principal of Ticud Elem. School, knows this. Being passionate about learning and children, she decided to venture on a preoccupation that would encourage her school's students to read more.
After undergoing a regional training on Reading Recovery, she and Maridel Belontendos with the supervision of Education Supervisor Ma. Luz M. De los Reyes ,created "The Beggar and the King", a big book.
It was followed by "Gat and Tat", a story about a cat (Gat) and a bat (Tat), where she is the lone writer. "This is my first baby. The students are so excited to read this because they know that it was Ma'am who wrote it," Dymphna said. The illustration was done by her husband, Anecito Jocson, Jr.
Next came "Ret and Zet" which was illustrated by Francis Garient Gocon, son of her co-teacher. "If I'm making a story, I make it a point to tap the talent of a co-teacher or a student," she said. Her co-teacher Imelda Casandra, illustrated her third book "Bop, Hop and Sop."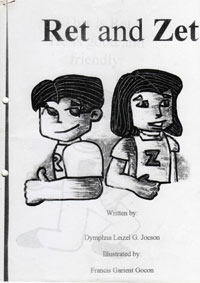 Cover of Ret and Zet.
She was on of the teachers in the Division of Iloilo City commissioned by SEDP (Sustainable Energy Development Program) to make teaching modules on sustainable energy, which was sponsored by the USAID, US Dept. of Energy, DOE, Iloilo City Government and DepEd Iloilo City. "They wanted us to make teaching modules on renewable energy and alternative fuels integrated in school lessons from Grade I to Fourth Year High School. I was shocked at first because it's too technical for Grade I kids. But anyway, I made a story that focused on solar and wind energy. SEDP was impressed that I made a book," she said. The book is entitled "Felix and Fely" and illustrated by Brando Banga, a teacher of Jaro II Elem. School.
Her next project with Banga was a book entitled "Pupil Power: Go, Go, Bio Diesel" which touches on Coco -biodiesel. Through the book, a pupil will learn of the harmful effects of not using bio fuels with language focus on initial letter "B." "This way, the pupil can relate to the story. This was featured in Robinsons Galleria in Manila," Dymphna said.
Mother Tngue
Dymphna's training in Payap University, Changmai, Thailand opened her eyes on the importance of using the mother tongue in gaining the interest of the child to read. There, she was made to write and illustrate a book. She came up with "Saya nga Pula", a six-liner story about her nieces' experience on a red skirt.
"In Thailand, we were taught that a child learns fast if the reading material is written in one's mother tongue. But before we could initially implement this in our school, we have to have sufficient materials, at least 80 Stage 1 Stories, 40 Big Books, 60 Listening Stories , in order to sustain the program," she said.
Dymphna revealed that Ticud Elem. School is embarking on a three-year project of using Hiligaynon, our mother tongue in book reading. "But we don't know the impact just yet. If we've proven that this is good for educating the children, we could replicate it in other schools," she said.
Legacy
Dymphna has earned recognitions like being the 2006 Most Outstanding Teacher (Division of Iloilo City). A dedicated educator, she rose from the ranks fast and became school head in 2008.
"If you love your work and kids, you can create things that could help them. I encourage my teachers to do the same because I was able to do it," she said.
Dymphna plans to write more books after she retires. "The life of a school administrator is so busy that I can't focus solely on writing books. But when I retire, I will definitely write a lot. I will pursue my enjoyment. It's my dream to help teachers create things that children will enjoy reading. That way, even if I'm gone, the books will still be there. It's my legacy," she concluded.