MAYOR Jerry P. Treñas said that money should not be a problem for Dinagyang 2010 and organizers should make use of the P9 million target festival budget.
FOR the second time, the Iloilo Dinagyang Foundation Inc. (IDFI) is contemplating of showing the dancing prowess of street sweepers in the four judging areas during the Dinagyang 2010 festival.
IT apparently takes more than just a "Vice Governor Rolex Suplico" for lawyer Soteo Gardose to give up his post as Iloilo Rehabilitation Center (RC) warden.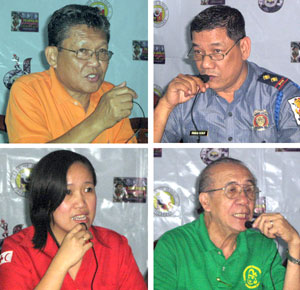 ARNOLD ALMACEN/PPP ILOILO
TRAFFIC Management and Engineering Unit (TMEU) chief Senior Inspector Bob Foerster denied the allegations of the Leganes Operators Drivers Association (LODA) over the inadequate car pass issued to the association.