TWILIGHT
Giving and sharing on Christmas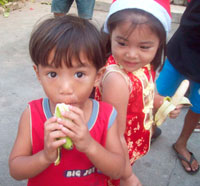 Baby boy Jongjong and Baby Sophia join the banana-eating contest.
Around twenty families were treated to a simple but very delightful and memorable Christmas Day afternoon merienda and gift giving in Purok Masinadiahon in Bago City to give them more touch of the Christmas season.
Your Twilighter assisted in the Yuletide treat and it was a very touching moment that several hands joined together to share their blessings to others. As Your Twilighter initiated some food of noodles and bread and more, helping hands of Honorary Consul of the Grand-Duchy of Luxembourg Raymond Stoffel shared his blessings for additional food on the table plus gifts of delightful package of fruit cocktail packs.
Another friend, Congressman Jeffrey Ferrer pledged to also share and gift bags were distributed to the mothers on hand who were very thankful for the help of the two supporters of the merienda and gift-giving in the barangay.
Even Baby Sophia surprisingly insisted that she gives out the gifts and bags to the families as she enjoyed the games with the children.
In every season of Christmas, the giving is most touching as the receiver feels the love of those who know that they give from the heart. Thank you to all those who made it happen. So let us also share these children a page in our paper. Happy New Year!