The Toreador
In with the New
NOTHING BUT DESSERTS's sweet and tart spin on the classic Pavlova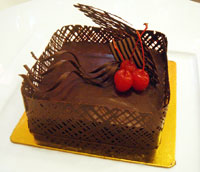 Chocolate Medley.
Nothing beats an afternoon trying out Nothing But Dessert's (NBD) newest addition to their already burgeoning menu. And if the sweet dessert we're talking about is named after the graceful Russian ballet dancer Ánna Pávlova, then curiosity and craving automatically go hand in hand.
A rich meringue-based dessert topped with fresh fruits like strawberries or grapes over whipped cream and garnished with mint, NBD's Pavlovas definitely look as good as they taste. The tartness of the fruits married with the sweetness of the meringue is great when paired with good old coffee, tea, or cold drinks like refreshing juices and shakes.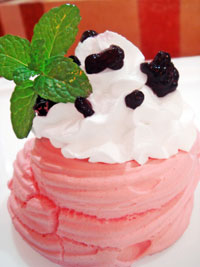 Blueberry Pavlova.
Pavlovas are traditionally served during celebratory or holiday meals in Russia and New Zealand (where ironically the dessert was said to have been first created), but here in the city, we can have our Strawberry, Peach, Blueberry, Grape, and Black Raspberry Pavlovas any time of the day.
If you're in a sweet stupor this holiday season, don't forget to try NBD's other delicious concoctions: the nutty Pistachio Cake, Stracciatella Cake, and for coconut lovers, French Meringue.
Visit Nothing But Desserts located at The Avenue Complex, Glicerio Pison Ave., Diversion Rd., Iloilo City or call 329-5815.