Bago City Spectacular Fireworks seen by 50T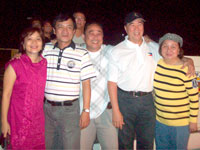 The Lights of Bago 2010 brought together Bago City Mayor Ramon and Menchie Torres, Joey Puentevella, and Congressman Monico and Paching Puentevella held last Friday as presented by the Honorary Consul of The Grand-Duchy of Luxembourg and Bago City. FLOZARDANDREW
All roads and highways within a kilometer radius were filled with thousands of cars, vans and trucks while all tricycles stopped and the oval field and bleachers were jampacked to watch the second Lights of Bago Musical Symphony of Fireworks that lasted for around twenty minutes of spectacular and unique pyrotechnics display last New Year's Day.
It was a glittering and happy moment for Bago City Mayor Ramon Torres as he welcomed the thousands and thousands of people who came to his city to be part of this event which was conceptualized by the Honorary Consul of the Grand-Duchy of Luxembourg Atty. Raymond Stoffel.
The retired Luxembourger lawyer who now resides in Bago City loves fireworks and designs pyrotechnics display in Europe bringing to this province his concept and love to watch fireworks. The pyrotechnics' ground-to-air display wowed the public of the unique performance that truly entertained each viewer.
To be inside the venue was more important because you could see the ground works of the fireworks before it shoots up the air, said Consul Stoffel. Bacolod Congressman Monico Puentevella and his family came in full force for the invitation and he congratulated the consul for his initiative to entertain the people of the province. Puentevella was given the privilege to speak to the audience.
After a time, Bacolod City Mayor Bing Leonardia with wife Elsa drove south to Bago City to also witness the event which was realized with the joint efforts of the City Government of Bago, The Grand-Duchy of Luxembourg, Province of Negros Occidental, SMART Communications and the International Friendship Club of Negros Island headed by John Bertrand.
The Honorary Consul commissioned the professional services of eventologist Toots Jimenez Jr. as his Event & Ground Management Director to undertake the over-all management and direction of the Lights of Bago 2010 while pyrotechnical preparations were done by David Po Villanueva of Spectra Illuminators.
While admission was free, the IFCONI promoted to sell raffle tickets prior and during the event to raise proceeds for the construction of the facilities for the Bago City Children's Playground to be enjoyed by children in the area near the Bago City Coliseum.
"We saw to it that more than a kilometer of the city road was designed for vehicle parking convenience and road advisory signs were installed to guide all the enthusiastic viewers of the event. Security measures were also designed for the event", Jimenez said.
Consul Stoffel was very delighted with the turn out of the spectators inside and outside of the venue and the count was definitely much more than the viewers last 2009. He thanked everyone who extended him the cooperation and support to make his initiated project a success. "What is more important than the fireworks is the social dimension of our concern that we help the people in the nipas who needs most the help that is why we start this project of the children's playground facilities", Stoffel emphasized./PR