AT least 16 people, of whom one died and the other one is still at the Intensive Care Unit (ICU) of the Iloilo Doctors Hospital after eating pochero cooked in a wake at Barangay Balibagan Oeste in the town of Sta. Barbara.
WHILE still nursing a post-surgical discomfort brought by a stab injury, a witness identified the son of Mayor Carlos Cabangal of Banate, Iloilo as the gunman who shot him and his friend on Christmas Day at Badilla St., Banate town.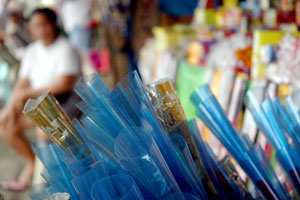 ARNOLD ALMACEN/PPP ILOILO
CITY Mayor Jerry Trenas yesterday denied he has something to do with the impending relief of Iloilo City Police Office (ICPO) director Sr. Supt. Melvin Moncal.