Apparently, illegal drug pushers can't withstand the "heat" in urban areas that they opt to shift to the provinces.
Iloilo Governor Niel Tupas Sr. has asked the Civil Service Commission (CSC) to reconsider its earlier ruling restoring Dr. George Acepcion, currently detailed at the Medical/Dental Services-Office of the Governor, to the Ramon Tabiana Memorial District Hospital, in Cabatuan, Iloilo.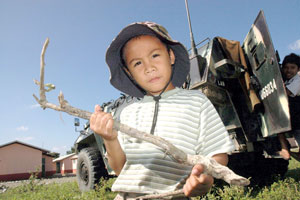 ARNOLD ALMACEN / PPP-ILOILO
KALAHI community process specialist Leo Quintilla said the government will end the implementation of the KALAHI projects starting January 2010 for lack of funding.