The bold and artsy John Montinola
"My fashion style is bold. I always want to make a statement. But of course, I always consider the type of woman who will wear the piece I'm making. But I definitely don't like simple clothes," John says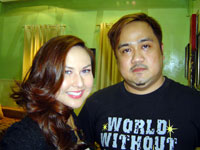 John with Primera Salon partner Rosanna Ng-Jamora.
Perhaps one of Iloilo City's fashion designers whose designs give justice to the word "bold" is John Montinola.
His collection during the 2nd Indigenous Fiber Market Week months ago was proof of such. Walking on the runway were models inspired by military warriors. He mixed hablon and other materials like brocade and satin so that the everyday woman can still wear them. That was his third fashion show.
His first fashion show was held at Juan's, which he owned way back. Being tired of bands as the usual source of entertainment for his diners, John decided to hold a fashion show instead. Since then, there's no stopping John from venturing into fashion designing.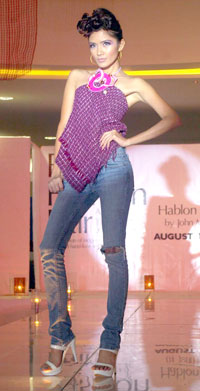 "I started learning how to sew. I bought a sewing machine and learned from it. I did not go through any formal study on clothing. I sew the costumes of Backroom's performers," John said.
"My fashion style is bold. I always want to make a statement. But of course, I always consider the type of woman who will wear the piece I'm making. But I definitely don't like simple clothes," John said.
John is also one of the resident designers of Primera Style Studio, located at Primera Salon, which he co-owns with Rosanna Ng-Jamora.
Which brings us to another of John's expertise, hairstyling. "It all started with Rosanna's wedding. I helped her with the preparations and we looked for artists who could do heir hairstyle and we were not satisfied. Thus, we decided to put up a parlor business. We underwent training in Manila. My forte is men's haircut. I started to cut the hair of the waiters of Terrasa Grill. And in just one afternoon, I learned how to cut hair. Now, Rosanna and I are partners. In weddings, for example, she does the makeup and I do the hair," John said.
A chef will always be a chef. Thus, despite being busy with his fashion and hairstyling businesses, John continues to create wonders in the kitchen as well. "I also do catering. I used to teach in Central Philippine University's Hotel and Restaurant Management course for eight years but I stopped in order to focus on my business, John Montinola Catering," he said.
If ever you'd love to stand out in an occasion either through your clothes, hairstyle or sumptuous food that you're serving, John Montinola can do the trick. He can be reached through telephone number 3007191.