PURR
Portraits and Figures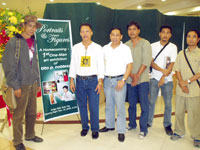 Tito Nobleza (2nd from left) with Lary Dumagat, Carlos Garcia, Ferdie Santiago, Milkie Villalobos and Bal Cerbo
Tito Nobleza has perfected his skill in making portraits and the human figure. His strokes are very detailed and he uses bright colors. This was my observation after viewing his works during the opening of Portraits and Figures, a one-man show of this Ilonggo-born and Manila-based artist.
Special guest Vice Mayor Jed Mabilog, as it turns out, is a fan of Tito Nobleza. He has seven artworks of Tito and the latest of which is his portrait which was unveiled at the exhibit. Mabilog encouraged art aficionados to buy the works of Tito and be placed in their respective homes. "Being a visionary, I envision Tito to be very famous internationally, thus his works will be priceless. Get a masterpiece of Tito Nobleza," he urged.
After the ribbon cutting, speeches and the program, Tito indulged the guests with an on-the-spot sketching, with accountant Irma Lim starting the line of eager models.
The exhibit was presented by Amigo Plaza Mall in cooperation with Amigo Terrace Hotel and organized by TMX-your travel and marketing experts.