TWILIGHT
Enchanted Kingdom's October Grand Revelry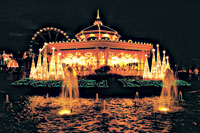 Visit Enchanted Kingdom in Sta. Rosa City in Laguna in time for its 14th anniversary on October 24 and witness the grand celebrations and the enchanting fireworks display
Enchanted Kingdom (EK) gives you more reasons to smile this 2009! For over 14 years now, the country's premiere theme park has been spreading the magic through its fantastirides & attractions, unique corporate packages (Enchanting Events), edutainment value, personal milestones packages (Enchanting Celebrations), wonderful shows and many more.
This October, come to Enchanted Kingdom as it celebrates its 14th year anniversary with a big bang on October 24!
Expect a lot of energetic musical numbers with "Enchanté Under the Sea" guaranteed to fire up the night to conclude with the much-awaited Grand Fireworks Display.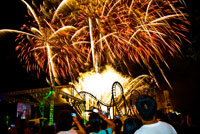 Guests of Enchanted Kingdom will again be treated to a grand display of fireworks.
The spectacular Fireworks Display will light up the sky of Santa Rosa, Laguna with Enchanted Kingdom's "Everyday, Everday" jingle as a fitting score. Pyrotechnicians from the October 10 and 17 elimination rounds will compete for the title of Sky Wizardry Champion. Cash and other prizes are also at stake for this annual contest.
The celebration does not end there as the search for Enchanted Kingdom's Princess 2009 will soon be over with young girls aged 6 to 10 vying for the crown on October 25, 2009.
The fun and magic continues at Enchanted Kingdom in October! Do not miss out on these spellbinding treats brought to you only by the country's first and only world-class theme park. Enchanted Kingdom is located at the City of Santa Rosa in Laguna.
Cebu Pacific flies to Manila daily and a shuttle ride of Enchanted Kingdom could drive you right there into the Enchanted Kingdom. Text or call 0922-821-8111 or 0922-832-6282.