PURR
Lex's birthday bash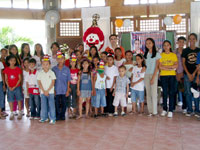 During Kasadyahan sa Kabataan in Asilo de Molo.
Councilor Lex Tupas celebrates his birthday by holding a bash that benefits the youth. This year, he decided to spend it with children in two separate activities. First was a party among children held at Asilo de Molo. The second was a mass baptism held in the afternoon at SM City Iloilo. Although the councilor's birthday is on August 11, he holds it on the day that has the same number as his age. This year, he turned 30, thus the celebration was held last August 30.
The children under our organization called KKK (Mga Kaibigan ng Mga Kabataang May Kanser), were lucky to have been considered to be part of the party at Asilo de Molo. For children who are sick, spending time with other kids as well as their families for a day of fun outside of their usual routine is good therapy and we are thankful for such opportunity.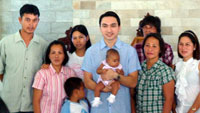 During the Bunyag sa Siudad at SM City Iloilo.
In the mass baptism, some 700 kids were baptized, with a one-month-old as the youngest and a five-year-old as the oldest. The parents and guardians were provided with Pampers diapers to be used for the babies.
These two celebrations remind us that although charity begins at home, it's also best to look outwards and exhaust our energies on and share our special moments with people who need them the most, strangers in need.