WVCST Alumni Artist Association holds exhibit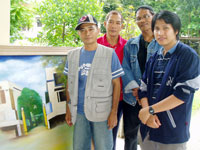 Roberto Vargas, Vic Galino, Eric Tacorda and Alex Ordoyo.
The Western Visayas College of Science and Technology Alumni Artist Association (WVCSTAAA) held an exhibit at the Alumni Building in relation to the homecoming event of the said school recently.
The exhibit was headed by the founding president, Vic Galino. On display were oil on canvas paintings and sculptures made by the alumni artists.
To note, Iloilo's most talented and award-winning artists came from WVCST.