The Lion King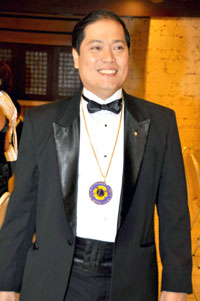 Lion 301-B Presiden Jed Patrick
Mabilog -District Lion of the Year
awardee, International Most Outstanding
President Award and International
Everyday Heroes Commendation from
Lions Club International World
President Al Brandel.
Just like a true king of the jungle, outgoing Lion President, Iloilo City (Host) Lions Club District 301-B Jed Patrick Mabilog really knows how to take care of his pride. A year after his prosperous reign, Lion Jed officially changed guard with another equally strong Lion, Dr. Greg Sancho, Iloilo City (Host) Lions Club Incoming President at the elegant Sunset Ballroom of Hotel Del Rio.
The year of Lion Jed Mabilog has brought in lots of prestige to this already highly merited Lions Club. The highest award of them all is the coveted Most Outstanding Lions Club of the World in which District 301-B is one of the top 3 finalists together with Lions Japan and Belgium. The numerous community projects and the millions of pesos in pledges and donations raised under Lion Jed Mabilog's stewardship has made the Iloilo City ( Host) Lions roar the mightiest all over the land, earning them more 6 million points and if lucky will be chosen on July 9 at Minneapolis, USA as the top of its class all over the world. Truly a history in the making in the year of Lions Jed's reign!
Last Saturday, June 27, the proud club members came in full force with gentlemen in their impeccable dark suits and ladies in their stunning evening gowns to witness the turnover ceremony of two strong Lion leaders in a dinner reception. It was also a night of recognitions to members who have done their very best in promoting and making it all possible the various projects of the club namely Sight Conservation & Work with the Blind, Diabetes Awareness, Health Service, Hearing and Speech, Action and work with the Deaf , etc. Also worth the emulations are the staff of the Lion King who worked so hard behind the scene for their leader and the club.
Adding yet more glitter to this all ready glitzy affair were the intermission numbers by the club members, which showcased the prowess in dancing. The finale to the evening's program was the highly charged rendition of Liza Manelli's Big Spender perfectly executed by golden girl Ms. Linda Patag –Hoblitzel which brought the house down complete with her all out cash showers as props.
It was a fun party indeed especially when its Iloilo City Lion Club District 301-B plays as Host. ROAR!!!!!