Twilight
Suntown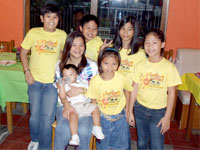 Some of the Suntown kids with Pinky
and Bob.
It was a sunny day when Leda Barbers decided to call on her fellow members who are at the helm of the organized SUNTOWN Camp to gather the member-children to a treat of ice cream and more.
Held at the Sweet Greens garden restaurant, owned by entrepreneurial partners Tima Sarabia-Lacson, charming wife of former Governor Daniel L. Lacson Jr. and Millie Kilayko, the simple gathering was something of worth a big party for the kids.
The children enjoyed the games and party fun that Leda Barbers and Pinky Javellana prepared for everyone.