On migration and human trafficking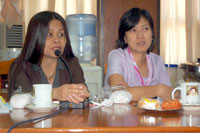 Aileen Macapili and Judy Oaing.
Media from different entities in the province gathered for a press briefing on migration and human trafficking presented by the Commission on Filipinos Overseas (CFO), Overseas Workers Welfare Administration and in cooperation with the Provincial Information Office last Monday, June 22 at Sumakwel Hall, New Capitol Building.
The objective of this activity is to present the programs, policies, functions and services of the Commission on Filipinos Overseas.
This was presented by Aileen Macapili, supervising emigrant services officer; Judy Oaing, administrative officer; Warner Dawal, senior emigrant officer; and Rey Vigal, OWWA 6.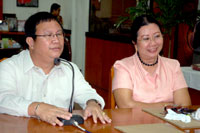 Eric Otayde- PIO, OIC Provincial
Administrator and Margie Gadian-PIA.
The CFO was tasked to head the fight against trafficking in persons. R.A.9208 or the Anti-Trafficking in Persons Act of 2003, institutes government policies to eliminate trafficking in persons, especially women and children. It establishes the necessary mechanisms to protect and support trafficked persons, and provides penalties for violators.
The Philippines is identified as a source, transit and destination country for men, women and children trafficked for the purposes of sexual and forced labor.
Since the passage of the Anti-Trafficking Law in 2003, the Philippines has prosecuted 304 human trafficking cases resulting in the conviction of 12 persons.