Learning without boundaries at Thinking Ground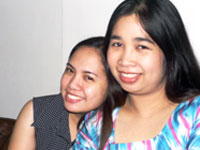 Drs. Charity Marianne Tiples and Mary
Antoinette Magbanua, the women of
Thinking Ground.
An expensive coffee shop is where Mary Antoinette Magbanua used to go to when she was reviewing for her medical exams. Now a doctor, she cannot forget how important it is for a student to study in peace.
Thus the birth of Thinking Ground, which she co-owns with fellow radiologist, Dr. Charity Marianne Tiples, who also had concerns about studying in peace at home but couldn't do so.
Thinking Ground aims to help students excel. Here, a student can be assured of that he or she will focus only on one's studying because there are no distractions around. And, it's cheaper compared to staying in a coffee shop for hours. It has a Wi-Fi connection that would enable them to surf the Internet for whatever information they need.
It has fully air-conditioned rooms and areas that are conducive for studying as well as venues for business meetings.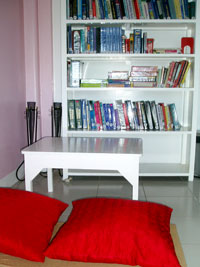 The library.
The study center has a Green Room, Blue Room and Purple Room.
The Green Room has four cubicles with a study table. It also has four individual tables and one big table with eight divisions.
The Blue Room is perfect for group studies and informal meetings. It can accommodate 15 persons.
The Purple Room's cool and calming hues make it a great place for formal or business meetings. It can accommodate eight persons.
There's also a coffee shop. Then, there's the library that carries different literature including medical and nursing books. You can enjoy reading at your own comfort because you're flunked with big floor pillows. Indeed, the library is the perfect place to sit back, relax and read.
Thinking Ground offers freebies to loyal customers as well as packages for conferences and meetings.
Thinking Ground is located at the 3rd Floor of DMS Building (across Jollibee) corner Jalandoni-E. Lopez Streets, Jaro, Iloilo City. They can be reached through telephone number 3202115 or e-mail to thinkingground@gmail.com. Visit their site at http://thinkingground.multiply.com/