Independence Day, The Negrense Way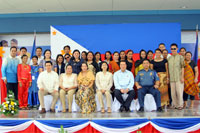 VIPs and Employees.
The Negrenses have shown that their love of country is ever flaming and that their love for freedom or independence reverberated with the grand and unique celebration of the 111th Philippines' IndependenceDay last June12.
Bacolod City celebrated Independence Day with a theme "Kagitingan, Kagalingan at Kasipagan tungo sa tunay na kalayaan."
The celebration was organized and implemented by the city's Independence Day Celebration Committee and Parade Committee chaired by councilors Hon Homer Bais and Hon Wilson Gamboa, respectively. It honored the heroism and patriotism of our forefathers who fought for our independence.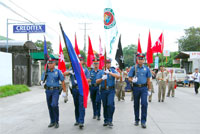 PNP.
It was a grand celebration as the affair was commemorated with activities that started in the morning with a flag ceremony and wreath laying at the Bacolod public plaza graced by presidential spokesperson Usec Ma. Lorelei C. Fajardo.
A program was thereafter held at the BAYS Center.
In the afternoon, a grand parade commenced from Burgos-Lacson Sts going all the way to the new government center grounds. As the parade contingents approached the new government center, two helicopters from the 205th Tactical Wing based in Mactan, Cebu made passes over the new city hall and then two SS260 TP Marchetti planes from the 15th Strike Wing based in Sangley Air Base in Cavite City performed aerial acrobatic shows.
The parade was participated by the employees of the Bacolod City government and private establishments, students from various public and private schools, residents from several barangays, members and contingents of civic organizations, the Police, the Army, the Coast Guard, the Air Force, the Department of Education and other national agencies.
The celebration was even made more unique with the presentation of a human flag in the parade which is the first ever to have happened in the city. About 5,000 individuals dressed in national colors of red white and blue have formed the human flag which was truly a sight to behold and gave more essence to the celebration of the Independence Day, the Negrense Way.