PINK PEPPER
The launching of i-SERVE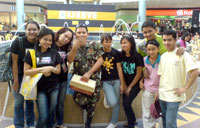 A pose after the event.
Hundreds benefited from the services offered by the Integrated Services for Education and Volunteer Efforts (iServe) during its launching at the fountain area of Robinsons Place Iloilo.
The services were tooth extraction, blood pressure check, men's haircut, massage and legal advice. A photo exhibit, audiovisual presentation and musical instruments made from bamboo and bags made from tarpaulin (thanks to Smart Communications) designed by my fellow volunteers were also displayed.
iServe is an Iloilo-based non-profit, non political organization established by volunteers who are looking for opportunities to share their valuable time and skills. The organization objective is to create an environment wherein the spirit of volunteerism prevails and brings about significant change in the community particularly within the children and youth sector.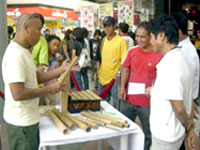 Biboy dela Cruz shows how the bamboo
instruments are used.
PROGRAMS AND SERVICES. The programs and services was focus on welfare services such as medical missions and relief operations (HELP), organizational development programs, volunteer program (volunteering opportunities, training and local deployment), education for personal enrichment and development of life skills and nation building.
For education services, we have Next Level (Academic Enhancement Program). We offer socialized tutorial classes to provide a venue for those financially challenged to have access to private tutorial classes; the 3P (Placement Preparation and Program). This is our assistance and mentoring program for out-of-school youth who want to take the academic placement test.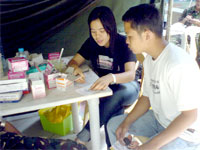 Cyline Manzano gives out a medicine
to the patient.
Saysay, on the other hand, is a literacy promotion through story telling. We will be partnering with various organizations and volunteers who could create, illustrate stories, and tell the stories in various venues such as malls, barangay centers and Wow (Workshop on Weekends) Training workshops on various topics such as arts and crafts, writing, leadership and team building, environment protection, theater and others will be conducted on scheduled weekends.THE MEN AND WOMEN OF THE ORGANIZATION. iSERVE is headed by Mazel Mary Jeongco, a volunteer for the longest time. The vice president is Raji Alvarado; Florivhielle Tondo, secretary; Ryan Palmaira, assistant secretary; Ramon Salvilla, treasurer; Kareen Jay Diesto, auditor; Whelmar Tayupon, business manager; Ma. Xylene Ann Casiple and Cylin Manzano, P.I.O.
The advisory board is composed of Professors Rubin Gamala and Edwin Lariza, Captain Antonio Tumnog, Andrew Escuban, Luel Declador and Ensign Sandy Mecuando III.
MEMBERSHIP. The Membership is open to individuals from any sector that believes in and subscribe to the principles, objectives and purposes of the organization. Two types of membership, the corporate and general; corporate is open to individuals regardless of age and gender who have served as volunteers for at least two years and whose application the membership committee has approved.
General membership is open also to individuals and groups who are interested to do or support volunteer work.
If you are interested to join and experience volunteerism, visit our office at the 2/F of New Ok Trading Building E. Lopez St., Jaro Iloilo City or you may e-mail this writer at rcs_ilo@yahoo.com or SMS at 09108920683.
Thank you to our partners and sponsors the strong men of 47th IB, 604th and 601st Philippine Army, Robinsons Place Iloilo, Smart Communications, Mang Inasal, Body and Sole Spa, Municipality of Barotac Viejo, Municipality of Dueñas and The News Today as media partner.