Sarabia Manor and Convention Center's fun day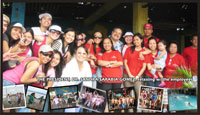 Succeeding in a challenging industry for 38 years is a good reason to celebrate. Sarabia Manor and Convention Center treated its employees to a day of fun and leisure at the Villa Regatta, Villa, Iloilo last May 31.
It was an opportunity for the employees to foster camaraderie with each other.
The activities were: group cheering competition, triathlon, sack race, volleyball, swimming, dance sports, singing contest and others. The teams were distinguished by their T-shirts in colors of pink, green, blue, red, black, gold, orange and yellow.
After an enjoyable day of competition and sumptuous lunch, the employees unwind to an evening of relaxation with free flowing drinks.