The May Flower Affair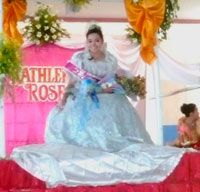 Reyna de las Flores 2009 Katleen Rose
Jimenez Demaisip.
Tapaz, Capiz is in full bloom every month of May when its town's stalwart, the indefatigable Au Palomar celebrates her annual tradition of paying homage to the Blessed Mother with a Holy Mass, Procession and Coronation of the Blessed Mother. A parade of the town's loveliest ladies (some of the breathtaking gowns were the creations of Randy Jimenez) around the plaza depicts the finding of the Holy Cross by Reyna Elena and her son, emperor Constantine. Fantastic sagala arches and stage backdrops were decorated with different flowers courtesy of floral artist and party planner Gerry Gequillo. The decoration of the elegant carroza and the buffet centerpiece were the works of the much sought after stylist Boni Gaverza no less! The silver and white gown of Our Lady was designed and executed by Totong Gellangarin who is starting to make big mark in the local fashion industry.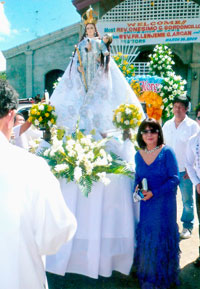 Tapaz's May Flower Festival Hermana
Mayor for life Au Palomar with her
beautiful Virgin Mary and Child.
Guests from different towns and provinces were invited to witness the spectacular and colorful event. Among those who attended the May Flower festivity were Judy Araneta -Roxas, the respected mother of Senator Mar Roxas who gave a Message of Hope during the program proper; the ever radiant wife of Senator Bong Revilla, Lani Mercado, who made an inspirational talk and Chief Supt. Leocadio Santiago, director of the PNP Special Action Force who delivered the coronation speech for the Reyna de las Flores for 2009. Also present in the packed Civic Center of Tapaz were the province's movers and shakers headed by Governor Victor Tanco Sr., Assistant Secretary of LTO Gen. Roberto Lastimoso, Board Member Nonoy Contreras and mayorable Robert "Nonong" Palomar.
After the pageantry, almost 400 invited guests converged at the Palomar residence and were treated to lunch specially prepared by the chef of Residence Hotel. Madame Au and her sister, charmer Nelly Weiss had their hands full in entertaining their never ending visitors. Mouth watering giant crabs and lobsters were in abundance. After all the Province of Capiz is the Seafood Capital of the Philippines.
Cheers and congratulations to Au Palomar for another incredible day!