Panay Power Corporation (PPC), Panay Energy Development Corporation (PEDC), and Panay Electric Company (Peco) yesterday signed a memorandum of agreement (MOA) to formally seal the power supply contract for the coal-fired power plant which is currently undergoing construction at Brgy. Ingore, La Paz district.
A Korean – Filipino firm is seeking approval of the Iloilo Provincial Government for a planned exploration of precious minerals in the mountainous areas of two Iloilo towns.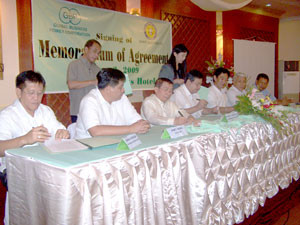 EC GARCIA
The Land Transportation Franchising and Regulatory Board (LTFRB) on Tuesday warned taxi operators that they face severe penalties, including revocation of their franchise, if they continue to defy a directive to install receipt-issuing meters on their cabs as well as issue manual receipts in the meantime. "Continuing to defy the directive may cost them their franchises," LTFRB chairman Alberto Suansing said.