Well, it's magic: The Summer Fun Street Magic Workshop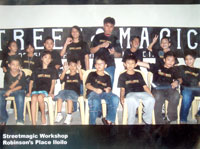 The participants of Street Magic.
When a card vanishes and suddenly appears in just a blink and a glass float in the mid air while pouring soda in it, it's magic!
As a part of Robinsons Place-Iloilo Summer Fun Workshop, street magic led by magic instructor Mr. Mark Vincent Java amazed the crowd as they hold a show featuring some of their best tricks on May 16 at the Robinsons Place Iloilo ground circle.
Street magic workshop as a training ground for young magicians from 6 to 15 years old, aims to develop the magic industry here in Iloilo. Magic instructor java trained his students to become the next generation of magicians with the promise to keep the tricks secret as reflected in the universal magicians' oath.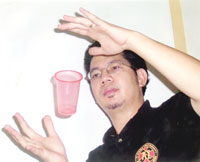 A cup levitates.
This was the send time of the street magic to hold a workshop. The first one is on September 2008. The workshop gathered a lot of curious minds to enroll in the five session class.
Participants of this year's Summer Fun Workshop-Street Magic were: JM Acuña, Justin Banusing, Adrianne Martha Barrientos, Lorenzo Vincent Borres, Jericho Camposagrado, Boom Boom Corteza, Ric Lim Coo, Kevin Mari Francis Cruz, allen Gerard Daguay, Aira Faye Dalisay, Pebbles Ferrer, Janna Marie Go, Kylie Jeanne Go, Nina Beatris Gonzales, Henry Hedriana, Neale Heinrick Humpay, Krizjireh Cezar Inquit, Jon Tristan Jeruta, Sheiva Lyn Kong, Cez John Benedict Lanada, Marc Joseph Lesaca, James lee Masilongan, Kaiji Mediana, Wellken Minerva, Jade Danly Nortates, Jetrho Nepomuceno, John Dexter Palma, Jimmy Querubin Jr., Rajah Rodriguez, Noel Danielle Rojo and Mae Tuson.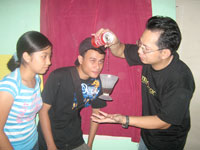 Java pours softdrinks on a
levitating cup.
From young and simple kids they evolve into young and extraordinary kids with skills in street magic.
"Magic is not just a craft," Mr. Java expressed,"it is also a lifestyle. Magic has no limitation. It only takes patience and perseverance to learn a trick and think of ways on how to make it appear like magic."
Truly, this Street magic Workshop leaves a legacy to its students in enhancing the magic industry in the city; and continuing to draw smiles, bewilderment, laughter and approval to the on-lookers. How?
Well, it's magic!