JPC holds Let's Dance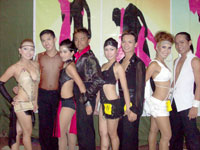 The finalists.
Dance sports always fascinate the crowd. The agility, energy and costumes that jives to the upbeat music never fail to amuse the spectators. To attest, dance fanatic of all ages pooled to watch the vigorous and steamy JPC Productions' Let's Dance Grand Finals atRobinsons Place.
Eight vibrant dancers showed their prowess during the dance sports showdown. These contestants were chosen last March and April, Let's Dance elimination round still at Robinsons.
Contestants were given 60 seconds for their solo performance and three to five minutes for the by pair category. The romantic Pasa doble of Robert Dapatnapo won as first place while two sassy dancers named Glaiza Gregorio and Sheena Fuentes won as second and third place respectively.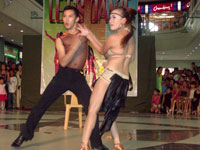 Glaiza Gregorio and Ian Gonzales
during the couple dancing.
Winners received P5, 000 for the first prize, P3, 000 for the second Prize, P2, 000 for the third prize and P1, 000 consolation prizes for the remaining contestants.
The contestants were judged according to their choreography, creativity and style, mastery, difficulty and over-all impact and costume. They were judged by dance guru Pamela Falcis, Glea Joy Paulino and the veteran dance instructor Harold Dalumpines.
The Students of JPC Productions entertain the crowd by their Dance Sports showdown and numerous dance numbers.
Let's Dance competition is a project of Robinsons Iloilo and usually hosted by Jun Cortel of JPC Productions.