Tadtad 2009
The search for the perfect tattoo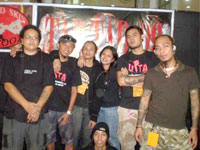 Stained Skin Tattoo and United
Professional Tattoo Artists.
Gathering tattoo artists from all over the region, Stained Skin Tattoo, United Professional Tattoo Artists, and Tau Gamma Phi fraternity organized Tadtad '09: Tattoo Competition at Robinsons Place Iloilo-Fountain area recently.
"Tattoo is an art," Tatz Conscolluela, one of the organizers of the said event, said. "However, it lacks appreciation. Usually, people think it's dirty and that it's only limited to prisoners. So, we gathered tattoo artists from all over the region to show that tattoo is an art and there are people who are passionate enough to get into it," he added.
The event was participated by 15 tattoo artists from all over the region —13 for the Tattoo category and two for the Henna category.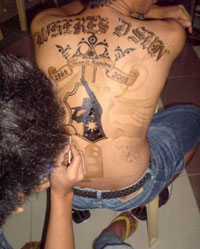 The participants took five hours of fervent tattooing after making their masterpieces. Oriental designs were quite evident. Other designs can be classified as fantasy, custom and biotech.
Each masterpiece was judged according to originality of the design, clarity of the design and technique in designing.
The winners for the tattoo category are Kyle Philip Ocate, John Reb Alipar and Belly P. Juele from 1st to 3rd place respectively. On the other hand, John Carlo Padilla got the 1st place in the Henna category while Chris Consolacion got the 2nd place.
Special awards were given to: Kyle Philip Ocate for Best in Black and Gray; John Philip Alipar for Best in Colored, and; Nicole Espera, being the lone girl, for the Tattoo Artist of the Day.