Familia Araneta Reunion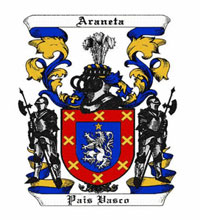 The Araneta crest.
It was planned years in advance, so that when April 17 and 18 came, the Grand Reunion of the Familia Araneta was an astounding success. Not even the strong rains could dampen the Araneta spirit because contingency plans were ready and set in motion before the first drop came. To welcome everyone on the first day, a Barrio Fiesta was held at the Bacolod Murcia Milling Co. Guest House, the vacation home of Judy Araneta Roxas. Everyone had a grand time meeting and getting reacquainted with relatives, while some got the surprise of their lives to find out that some friends were relatives! There was a sea of colors during the reunion, where blue represented the Aranetas from Luzon, yellow for the Visayas, green for Mindanao, and red for those who came from abroad.
To kick off the second day, a motorcade was held in Bago City, which was followed by a sports tournament held in various venues. There was a basketball game at the Bantayan Park in Bago City, a Golf Tournament at the Bacolod Golf and Country Club, and a badminton tournament at the Bacolod Eastside Badminton Court. It was one giant party that spread from Bacolod all the way to Bago City.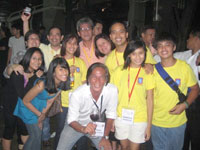 Having fun with Teddy Montelibano
(front row) and the cousins.
The reunion ended on its second day with an anticipated mass followed by a buffet dinner at the St. John's Institute Gymnasium. The place was filled to capacity where everyone cheered for the sports awards that each team received. A contest was held entitled "We are Family", where a group from each region showed their dancing and singing prowess to try and win first prize! And yes, the grand prize went to the Bacolod group! Pinky Marquez was the guest entertainer of the evening, together with Bacolod's hottest dance band, the Checkmates. Everyone had a great time partying with Senator Mar Roxas and his fiancée, Korina Sanchez. After the party at the gymnasium, it continued on at the Guest House, where there was a more intimate gathering of relatives.
It was a memorable experience, meeting and discovering relatives from all over the country. The show of support to make the event a success was overwhelming. I am not an Araneta, but am married to one. And it is always a thrill to meet new relatives. Now I can't wait for the next reunion!